Chip design, reimagined.
Introducing a fast, affordable, and efficient new way to design silicon chips.
Chip Designer
Start with your idea, get it in silicon.
Chips are in everything you own. Yet until now, only the biggest players with the deepest pockets could create custom SoCs.
SiFive is changing all of that. Now, thanks to our powerful design tools, every entrepreneur, inventor and innovator can translate their dreams into silicon.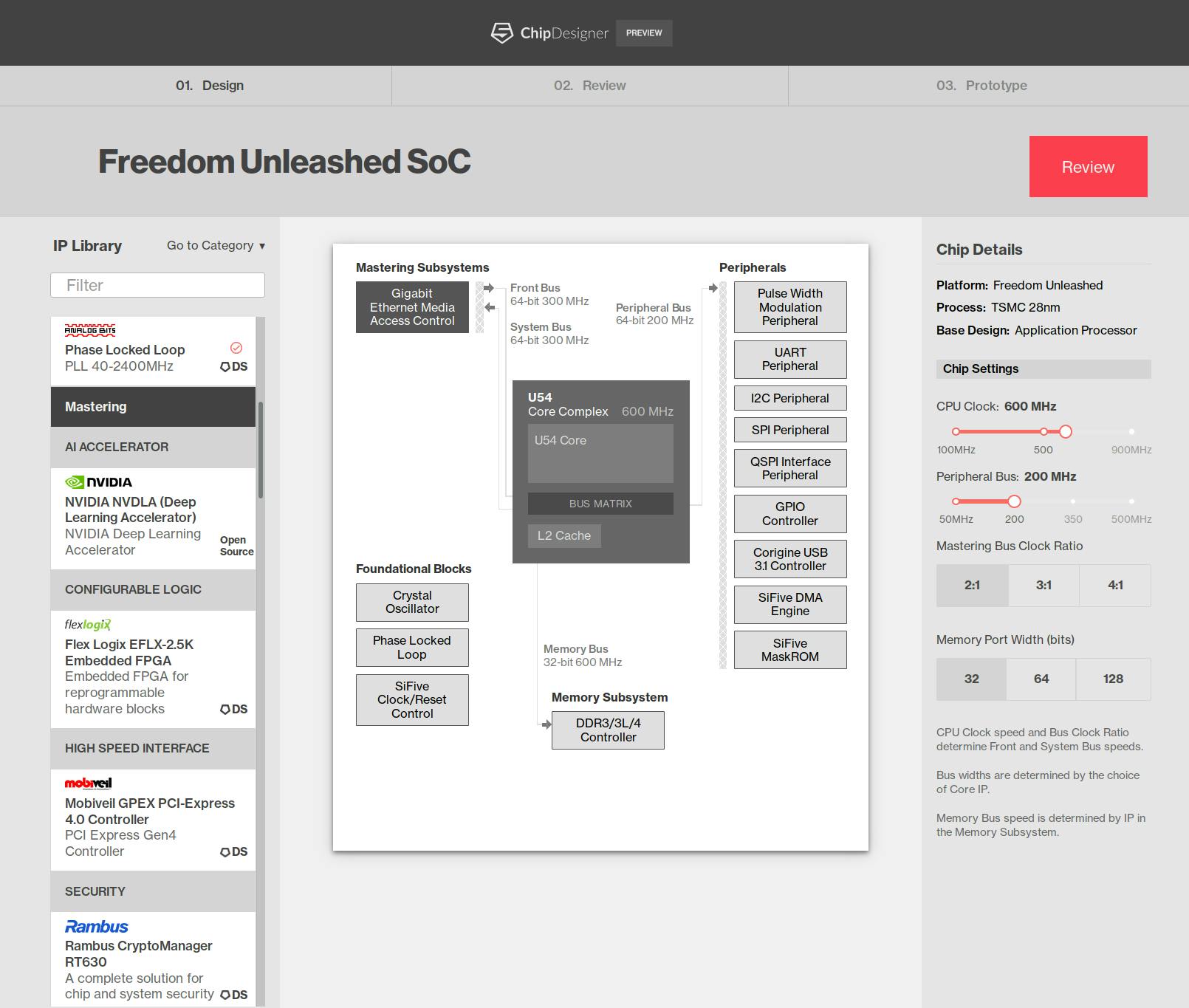 A new way of building custom silicon.
01. Design

Choose the template that suits your application. Create variations using a rich library of IP from our DesignShare Partners — or onboard your own IP. Save as many custom template designs as you like.

02. Prototype

Run your application code on virtualized chips. Iterate until you get the performance that's right for your product.

03. Order

Receive sample chips within months — at a deep discount. With SiFive, there are no upfront IP costs until you need production quantities.
Overview
Freedom Templates
Welcome to a fundamentally new approach to designing and producing custom chips. Verified templates provide the agility to quickly and cost-effectively customize designs, unleashing the power and flexibility of custom silicon to businesses large and small.
The Beginning
Let's get real.
Introducing our first silicon proof points — built with the same technology that's behind the SiFive Chip Designer.
Freedom Everywhere
FE310
The FE310 is the first member of the Freedom Everywhere family of customizable templates. The FE310 was designed from the Low-Power MCU template and features the SiFive E31 Standard Core.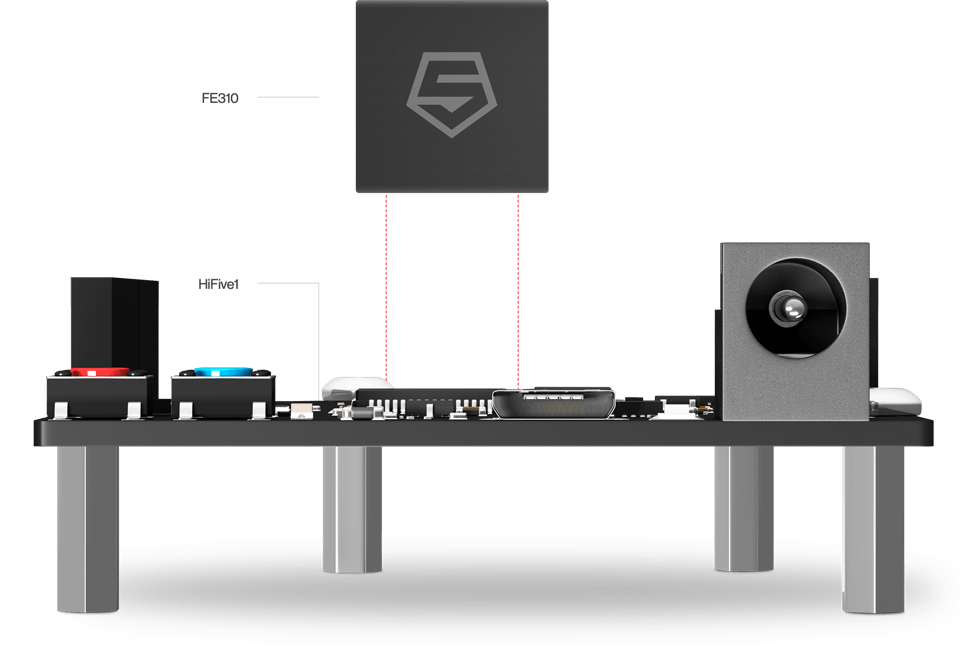 Speed
320+ MHz
Among the fastest on the market
FE310 Key Features

E31 Standard Core
RV32I Base Integer Instruction Set, Version 2.0
"M" Standard Extension for Integer Multiplication and Division, Version 2.0
"A" Standard Extension for Atomic Instructions, Version 2.0
"C" Standard Extension for Compressed Instructions, Version 1.9
RISC‑V Privileged ISA Specification, Version 1.9.1
RISC‑V External Debug Support, Version 0.13
Additional Features
16KB L1 Instruction Cache
16KB Data SRAM Scratchpad
Hardware multiply/divide
Debug module
OTP non-volatile memory
Flexible clock generation with on-chip oscillators and PLLs
Peripherals including UARTs, QSPI, PWMs, and timers
Multiple power domains + low-power standby mode
Freedom Unleashed
FU540
The FU540 is the first member of the Freedom Unleashed family of customizable templates. The FU540 was designed from the Application Processor template and features the SiFive U54-MC Standard Core.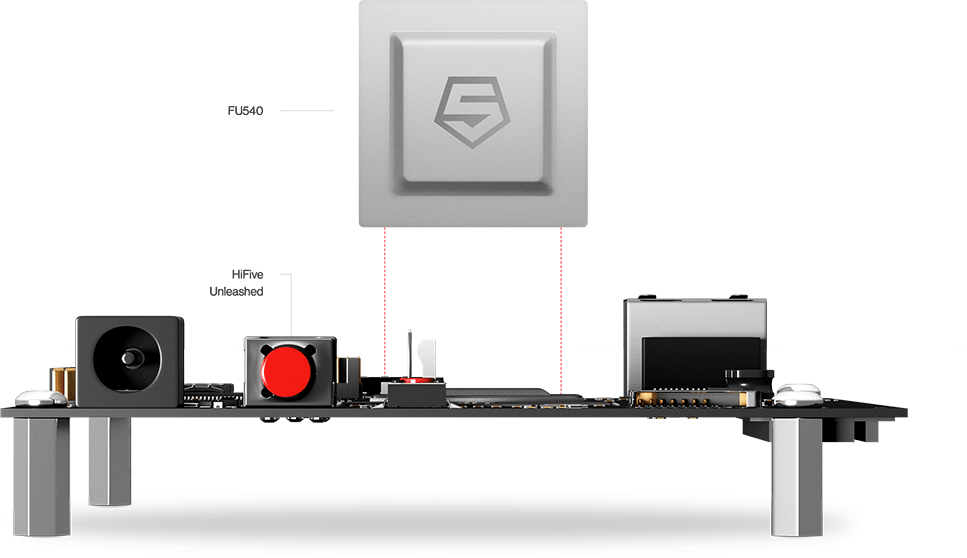 Speed
1.5 GHz+
4+1 Multi-Core Coherent Configuration
FU540 Key Features

U54-MC Standard Core
4× U54 RISC‑V Cores
32 KiB 8-way L1 I-cache
32 KiB 8-way L1 D-cache
1× S5 RISC‑V Core
16 KiB 2-way L1 I-cache
8 KiB Data (DTIM).
Additional Features
1x S5 RV64IMAC Management Core
Coherent 2 MB L2 Cache
64-bit DDR4 with ECC
1x Gigabit Ethernet
Built on a 28nm process
Linux-capable RISC‑V Template
4x U54 RV64GC Application Cores
Sv39 Virtual Memory Support
What People
are Saying

"The real benefit of RISC‑V is that it could enable companies to build chips that better meet their needs."

Klint Finley — Wired Business

"SiFive is providing innovative solutions that will fundamentally change the semiconductor industry."

Stefan Dyckerhoff — Sutter Hill Ventures, Managing Director

"RISC‑V offers a fresh approach that has the potential to help reduce SoC development time and cost significantly."

Raja Koduri — GM Edge Computing Solutions, Chief Architect, Intel

"Custom silicon is going to be a big theme going forward as each use case may carry different needs. ...One-size-fits-all [chips] might not hit each sweet spot. That is the hole that a company like SiFive could fill."

Matthew Lynley — TechCrunch