March 06, 2018
We're heading to the Embedded Linux Conference next week, March 12-14, to hold our first hackathon. Developers will be among the first to run code on the HiFive Unleashed board with a chance to take home a board of their own and win a $1,000 cash prize.
Wondering what you'll need to bring with you?
We'll provide 50 HiFive1 and 50 HiFive Unleashed boards along with the associated power supplies, USB cables and SD cards. You'll need to bring your own computer that's capable of running your preferred development environment.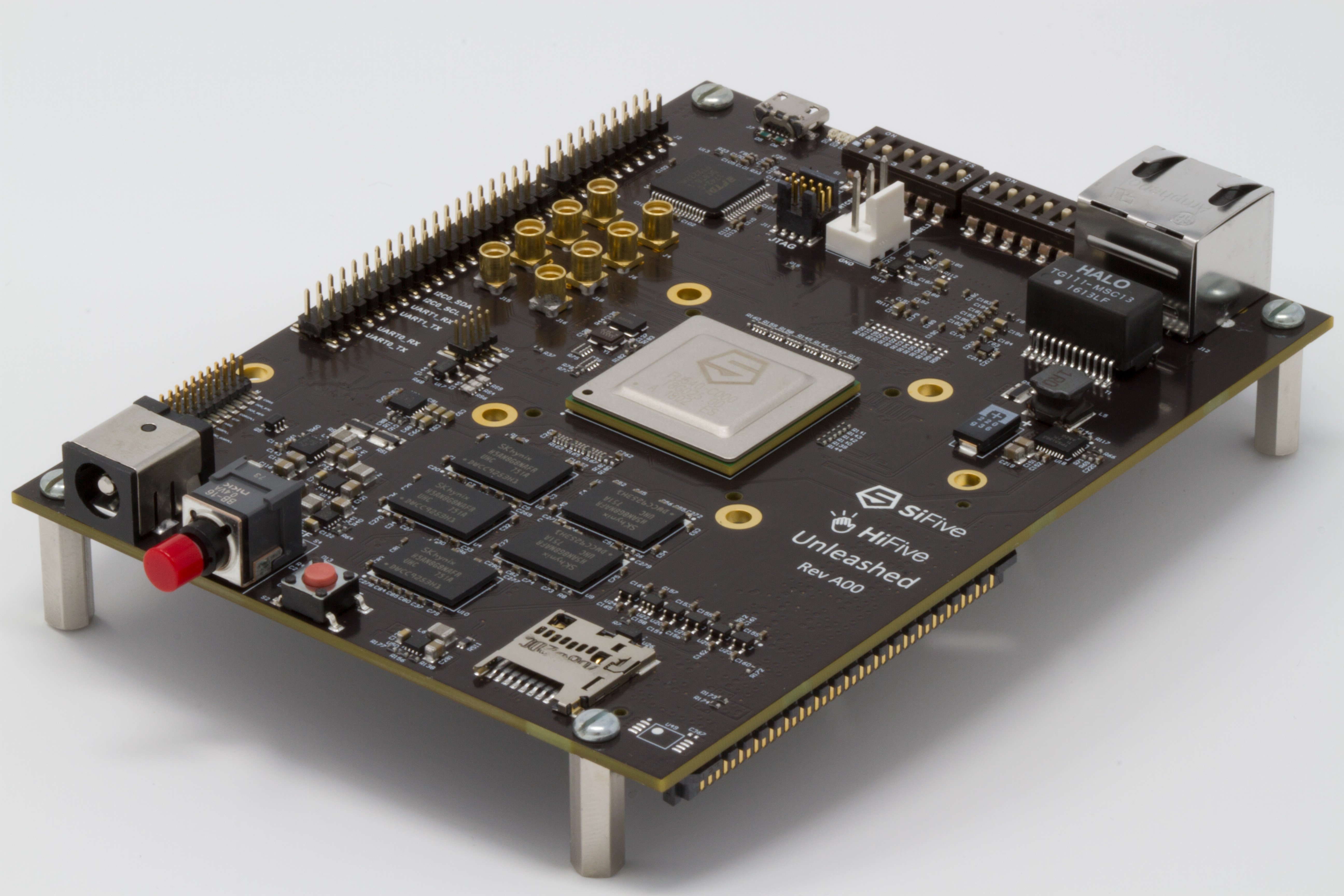 Good news, the Hackathon is free for conference attendees! Register here; and if you haven't already, check out Palmer Dabbelt's latest in the All Aboard series to learn more about the Hackathon challenges.
We're Growing in More Ways Than One!
Speaking of the HiFive Unleashed, SiFive demonstrated the first real-world use of the board at FOSDEM in February, highlighting the launch of the board, which features the industry's only Linux-capable RISC-V based processor SoC.
What an exciting time for us and the open-source community!
Developers can purchase the HiFive Unleashed board online. The board will ship in late March for early access users with more boards shipping in late June.
It's been a busy few months for us as we've also been working to grow our team. Join us in welcoming two industry all-stars:
Shafy Eltoukhy, who joins us as VP of operations, will lead our DesignShare program. Shafy comes to SiFive with three decades of experience, most recently as VP and business unit manager for the analog mixed signal division at Microsemi.
Shiva Natarajan who is our newly appointed CFO, will structure and oversee company growth. Previously, Shiva was VP of finance at A10 Networks.
Interested in being part of the revolution? Want to help democratize access to custom, state-of-the-art chips? Join us!
Featured Developer
Our view of the world centers around the developer, the engineer, the user, the dreamer. It's you who are contributing to RISC-V and open-source, making what we do at SiFive possible.
The developer we're featuring today is Donnie Agema, known as "dagema" on our forums. He's currently studying Computer Organization and Design to better enable him to learn the RISC-V ISA, using our HiFive1 board and the Arty platform for hands-on training. This photo to the left is one of the projects he's working on, showing two Tesla coils getting in touch with one another.
We asked Donnie how he discovered SiFive, and his response:
"Electronics has been my hobby since childhood, beginning in the vacuum tube era. But my early career as logistics manager and later as SAP systems engineer put that hobby on the back burner for many years. When I began approaching retirement age, I decided to start reviving my lifelong hobby, and found I had been left behind by the onslaught of microprocessors.
After retirement, I am now trying to get back up to speed, which means learning all about microprocessors. Having the desire to start at the bottom and work my way up, it seemed to me that the near future was in RISC-V and FPGAs. That combination brought me to the SiFive website, of which I have become an avid follower."
Thanks for being a fan, Donnie! We look forward to seeing more of your projects.
Are you working on something interesting? We'd love to feature you next. Drop us a line and let us know what you are working on!
Forum Highlight
The SiFive Forums are buzzing! They are packed with valuable content that can answer your questions and curiosity surrounding RISC-V, development boards, IP evaluations and much more. Here's a peek at some of the threads that caught our attention (and will now have yours, too!):
Blog Posts
What's been on our minds, you ask? Quite a few things, but here are some blog highlights over the past month including Palmer's latest on the All Aboard series:
All Aboard, Part 11: RISC-V Hackathon, Presented by SiFive by Palmer Dabbelt
All Aboard, Part 10: How to Contribute to the RISC-V Software Ecosystem by Palmer Dabbelt
Welcome Aboard, Sunil Shenoy! by Allen Leibovitch
SiFive in the Press
Want to see who has been talking about SiFive recently? Let's take a look!
Moore's Law is Dead: So, Let's Talk About the Future of SoCs by Jack Kang, VP of product and business development, SiFive, Sensors Magazine
Paul Kocher: Differential Power Analysis And Spectre by Paul McLellan, Breakfast Bytes Blog, Cadence Community
First Open-Source RISC-V SoC For Linux Released by Chris Wiltz, Design News
Is Open Source RISC-V Ready To Take On Intel, AMD, And ARM In The Data Center? By Christine Hall, Data Center Knowledge
HiFive Unleashed: The First Linux-Capable RISC-V Single Board Computer Is Here by James Sanders, TechRepublic
Igniting The Open Hardware Ecosystem with RISC-V - SiFive's Freedom U500 Is The World's First Linux-Capable Open Source SoC Platform, FOSDEM Interviews
Intel's Sunil Shenoy Joins RISC-V Start-Up SiFive by Gareth Halfacree, Bit-tech.net
SiFive Introduces RISC-V Linux-Capable Multicore Processor by Brian Benchoff, Hackada
RISC-V in the News
We're always keeping an eye on RISC-V; after all, our founders invented it! Check out the latest conversations around the RISC-V ISA:
A New Era Of Storage: Open Compute With RISC-V And Memory Fabrics by Dr. Zvonimir Bandic, Western Digital, Embedded Computing Design
11 Myths About The RISC-V ISA by Ted Marena, director of SoC/FPGA products, Microsemi, Electronic Design
RISC-V Processor Mr Wolf Arrives To Solve Problems by Peter Clarke, eeNews Europe
RISC-V Processor Trace IP An Industry First by Mathew Dirjish, Sensors Magazine
RISC-V Processor Trace IP Available by Steve Bush, ElectronicsWeekly.com
Nvidia, Western Digital At Chips' Frontier by Tiernan Ray, Barron's
Thanks for your continued support!
Until next time,
Jack Kang
We would love to hear from you - reply to this email with any questions or inquiries and we will get right back to you!
Sign up for our newsletter
Stay in touch
Sign up to receive product updates and more