January 24, 2020
Welcome Back!
It's been a while since our last newsletter - a lot has happened since we last reached out. 2019 was another impressive year for SiFive. We made great strides in multiple areas, such as bookings, revenue, team size, number of locations around the world, and capital that we have raised
However, the most wonderful thing about 2019 was the number of customers, investors, DesignShare partners, and university partners that we worked with throughout the year - over 120 organizations. We appreciate all of you for making SiFive what it is today!
Wishing everyone a happy and prosperous 2020!
Naveed Sherwani
President & CEO
SiFive, Inc.
Here, There and Everywhere ...
SiFive Completes its Global 52-City Tech Symposium/Workshop Tour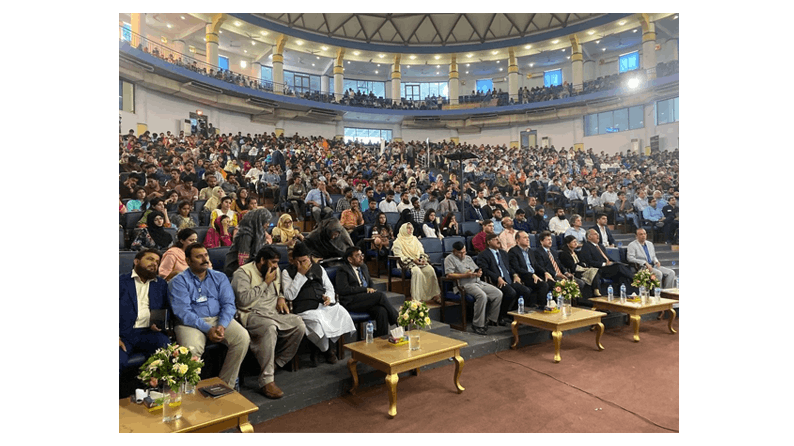 The RISC-V ISA is rapidly becoming the new standard for compute and has literally spawned a worldwide revolution in the semiconductor industry. At the beginning of 2019, SiFive set out to foster education about its RISC-V based technologies and to advance deeper collaboration within the global hardware community. We succeeded! We completed 52 Tech Symposiums/Workshops reaching 26 countries and six continents – reaching all corners of the world. Over 10,000 people attended these events, demonstrating strong attraction to RISC-V in not only industry, but in academia as well.
SiFive deepens AI portfolio with strategic new disclosures at CES 2020, unleashing semiconductor product roadmaps for consumer and commercial SoCs.
SiFive Presented New Technologies at RISC-V Summit 2019
At the 2019 RISC-V Summit there were more than 1,670 registrants – that's 500 more attendees compared to the event last year, showing how the RISC-V ecosystem is continuing to rapidly grow. View proceedings to learn key takeaways.
Samsung to use SiFive RISC-V Cores for SoCs, Automotive, 5G Applications
At the annual RISC-V Summit, Samsung disclosed the use of SiFive's RISC-V cores for upcoming chips for a variety of applications.
RISC-V grows globally as an alternative to Arm and its license fees
RISC-V Xmas gifts: SiFive Emits Vector Enabled Cores
SiFive Celebrates Historic 100 Design Win Milestone
SiFive Wins Elektra Award 2019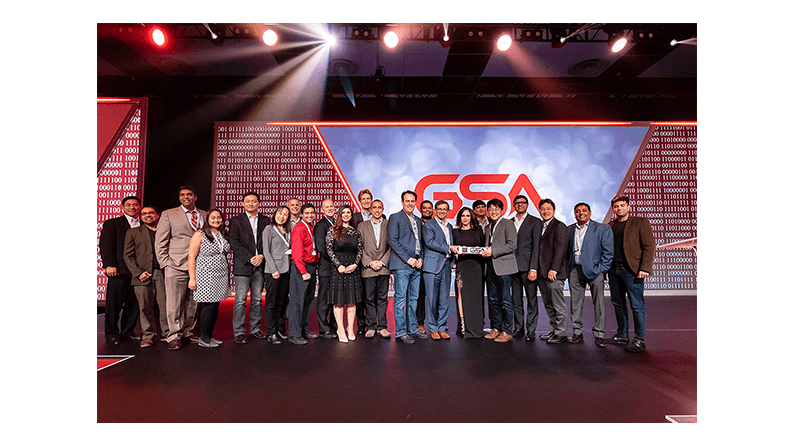 SiFive Retains Title of Most Respected Private Semiconductor Company RISC-V leader honored for second consecutive year for its hyper growth, products and performance by the Global Semiconductor Alliance.
In 2019, SiFive reached another milestone with the shipment of 150 million ASICs to date
Product Highlights
SiFive Announces New Technologies for Mission-Critical and AI Markets
SiFive Learn Inventor Development System Now AWS Qualified
SiFive Announces SiFive Learn Initiative
SiFive Announces New U8-Series Core IP for High-Performance Compute
SiFive Announces New SiFive Shield for Modern SoC Design
New Partnerships
SiFive and CEVA Partner to Bring Machine Learning Processors to Mainstream Markets
Breker RISC-V TrekApp for Automated, High-Coverage System Integration Test Suite Synthesis
Lattice and SiFive Announce Collaboration to Allow Lattice FPGA Developers Easy Access to RISC-V Processors
Wind River Announces RISC-V Support for VxWorks RTOS
Upcoming Events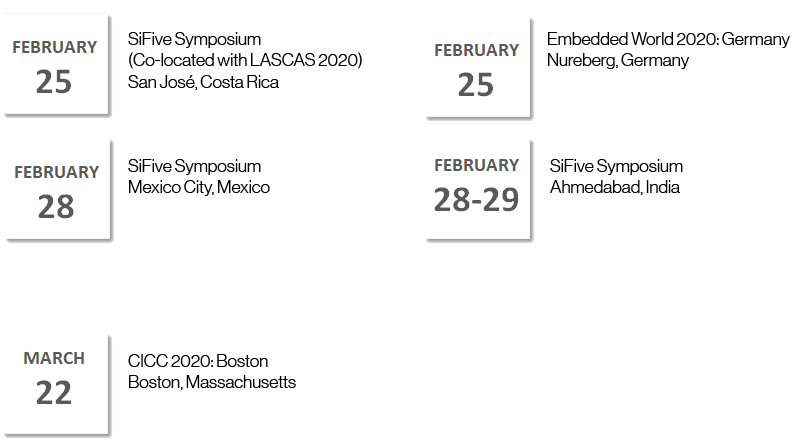 We would love to hear from you - reply to this email with any questions or inquiries and we will get right back to you!
Thanks for your continued support!
Until next time,
The team at SiFive
PS - if you are getting this message forwarded to you, and want to sign up for future newsletters, you can do so here
Sign up for our newsletter
Stay in touch
Sign up to receive product updates and more