HiFive Unmatched
Freedom Unmatched
Based on the success of the HiFive Unleashed and Linux software ecosystem enablement, the HiFive Unmatched ushers in a new era of RISC-V Linux development with a high performance development platform in a standard PC form factor.
HiFive Unmatched Features & Specifications
The development board is powered by the SiFive Freedom U740 (FU740), an SoC that includes a high-performance multi-core, 64-bit dual-issue, superscalar RISC-V processor (SiFive Essential™ U74-MC) with 16GB of DDR4, Gigabit Ethernet, PCIe expansion, USB 3, and M.2 sockets for Wi-Fi, Bluetooth and NVMe storage. A 5th core (a SiFive Essential S71 monitor core) is available for real time applications. SiFive Mix+Match technology offers a potent combination of application and real-time processing. The S71 (RV64IMAC) can service auxiliary functions and cooperate with the U74-MC cluster, making this an ideal heterogeneous software development platform where Linux and a RTOS can co-exist.
NOTE: Due to incredible customer demand, we quickly sold out of our initial production run of HiFive Unmatched boards, but we are currently working on building more of these boards (anticipated late 2023 availability) and are also working to bring out the powerful HiFive Pro P550 development system. If you'd like to keep up with HiFive Pro P550 related news, you can register to be notified of any updates.
4x USB 3.2 Gen 1 Type A Ports (1 Charging Port)
1x MicroUSB Console Port
x16 PCIe® Gen 3 Expansion Slot (8-lanes Useable)
M.2 M-Key Slot (PCIe Gen 3 x4) for NVME 2280 SSD Module
M.2 E-Key Slot (PCIe Gen 3 x1) for Wi-Fi / Bluetooth Module
Industry Standard Mini-ITX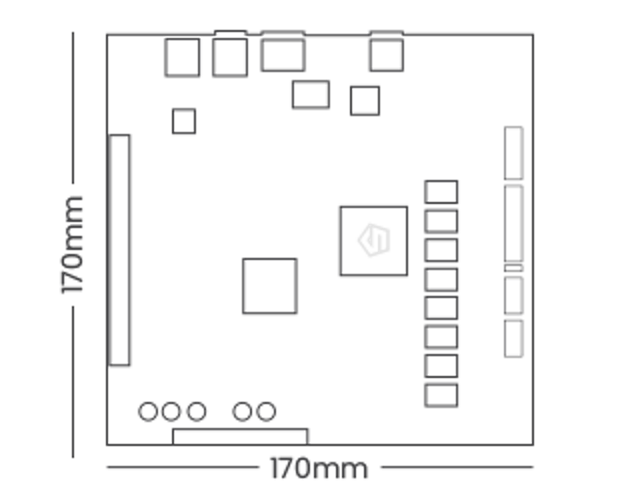 Advantages of HiFive Unmatched
If you're a serious software developer, kernel developer, or Linux hacker, we can think of a few reasons to use this board:
Port software to the RISC‑V platform
Evaluate the SiFive U74‑MC SoC
Own the fastest RISC‑V SoC in the world
Want multi-core, Linux-capable RISC‑V hardware
Want to support open source hardware
Need to create the next great thing!