Software
One-stop download for software development kits and all toolchains & utilities for RISC-V devices.
Software
Dream it.
Build it.
Freedom E SDK
The Freedom E SDK is a repository of demo programs, industry standard benchmarks, and board support packages (BSPs) for our hardware platforms. Running benchmark code on our development boards is as easy as building a single Makefile target.
Completely Open Source
git clone --recursive https://github.com/sifive/freedom-e-sdk.git
Freedom E SDK
Freedom Studio
Freedom Studio is the fastest way to get started programming with your SiFive hardware. Freedom Studio is built on top of the popular Eclipse IDE and packaged with a prebuilt toolchain and example projects from the Freedom E SDK. Freedom Studio is compatible with all SiFive RISC-V development boards. Previous released versions are available through our Freedom Studio GitHub repository.
We highly recommend downloading and reviewing the Freedom Studio User Manual before downloading and installing Freedom Studio. This manual has important information about preparing your host system to help you get up and running as quickly as possible. Please note that the Freedom Studio IDE no longer runs on CentOS 6 and Ubuntu 16.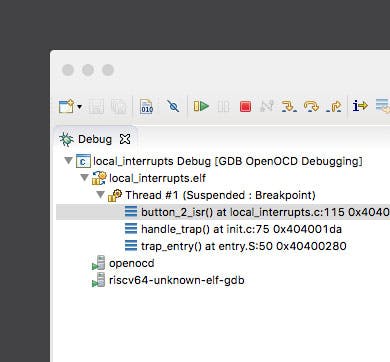 Download Freedom Studio — v2021.04.1
Prebuilt RISC‑V
GCC Toolchain and Emulator
Save time by using one of our prebuilt toolchains which contain all the tools necessary to compile and debug programs on SiFive products. No hardware, no problem as the QEMU emulator packages can be used to test software applications without hardware. Our toolchain and emulator distributions have been carefully packaged to support both 32-bit & 64-bit ISAs. All the available packages are built using our Freedom Tools GitHub repository, where previous released versions are available.
GNU Embedded Toolchain — v2020.12.8
Spike Disassembler — v2020.12.1
Freedom U SDK
The Freedom U SDK is a repository containing everything needed to build a Linux-based board support packages (BSP) targeting SiFive hardware and emulation platforms.
Pre-Built Linux BSP
Already have a HiFive Unleashed and want to get started right away? Download the latest pre-built image below and follow the instructions in Freedom U SDK for writing the image to the Micro SD Card.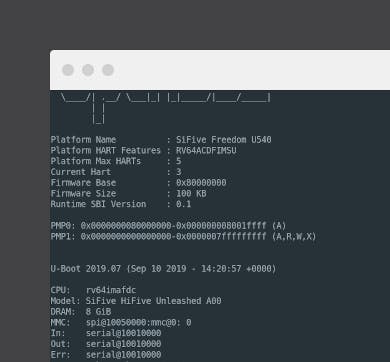 HiFive Unleashed — v2019.08
Third Party RISC‑V Tools
A vibrant third-party ecosystem has evolved around the free and open RISC‑V ISA. The following tools are not developed nor maintained by SiFive, but may be worth considering for your next project.
Ashling
Ashling is a world-class technology partner offering integrated solutions, tools, and design services that are at the heart of the embedded environment. Ashling RiscFree™ C/C++ for RISC-V, is a fully integrated development tool environment that includes an IDE, compiler, debugger, and Opella-XD JTAG probe ready to use with SiFive's RISC-V Core IP products.  A single download and install provides out of the box functionality and support for SiFive IP cores. Ashling brings in the added value of offering tools customization of any ISA extension, for both compiler and debugger, to support SiFive's customer base.
Green Hills Software
Green Hills Software is the worldwide leader in embedded safety and security software that customers have been relying on for over 40 years – delivering the widest range of solutions and capabilities for: optimized C/C++ compilers and run time libraries, advanced Integrated Development Environment (MULTI IDE), real-time operating systems (INTEGRITY and u-velOSity) and embedded hypervisors (Multivisor and u-visor) for multicore microcontrollers and microprocessors. In addition to the most comprehensive suite of solutions for RISC-V processors, customers utilize our production proven safety and security certified tools, C/C++ run time libraries and real-time operating systems for automotive, industrial, railway and more, with certifications for ISO 26262 ASIL D, IEC 61508 SIL4, IEC 50128 SIL4 and ISO 21434 automotive cyber security. By choosing Green Hills, customers reduce their program risk, time to market and cost to develop, while increasing developer productivity.
·         Green Hills Solutions for SiFive RISC-V Processor Portfolio
GNU MCU Eclipse
GNU MCU Eclipse is an open source project that includes a family of Eclipse plug-ins and tools for multi-platform embedded development, based on GNU toolchains. The RISC‑V architecture is fully supported, and the Eclipse plug‑ins allow users to create and build C/C++ projects. The debugging plug-ins support SEGGER J‑Link, OpenOCD, and QEMU—and include a detailed peripheral register viewer.
IAR Systems
IAR Systems is a truly global company at the top of our industry, providing world-leading software for building embedded applications for more than 30 years. We supply the tools and services that make embedded systems development fast, efficient and reliable, enabling our customers worldwide to deliver better products to their markets faster. IAR Embedded Workbench for RISC-V offers excellent optimization technology to ensure developers that the application fits the required needs and optimizes the utilization of on-board memory and necessary speed.
Lauterbach
The TRACE32® user interface and base modules support most available processor architectures. TRACE32® tools are applied in the pre-silicon phase for virtual prototyping and provide a seamless transition throughout all subsequent development phases leading to mass production. In October 2017, Lauterbach and SiFive announced TRACE32® support for RISC‑V cores.
PlatformIO
PlatformIO is a unique, open source, cross-platform and hardware-agnostic solution that provides developers with a modern integrated development environment that includes advanced embedded instruments for debugging, unit testing, and remote management. Thanks to its flexible architecture it can be easily customized to support any RISC-V core and platform-specific SDK reducing the time required to ship your RISC-V solution to the market.
SEGGER
SEGGER Microcontroller is a supplier of software, hardware, and development tools for embedded systems. SEGGER offers support throughout the development process with easy-to-use tools and middleware components.
Embedded Studio - The leading cross-platform IDE for embedded C/C++ development. Available for Windows, macOS, and Linux.
J-Link - With unparalleled performance and an extensive feature set, J-Link offers the world's most widely-used debug probes.