E2 series
E20
The SiFive E20 Standard Core is an extremely efficient implementation of the E2 Series configured for very low area and power. The E20 brings the power of the RISC-V software ecosystem to efficiently address traditional 8-bit and 32-bit microcontroller applications such as IoT, Analog Mixed Signal, and Programmable Finite State Machines.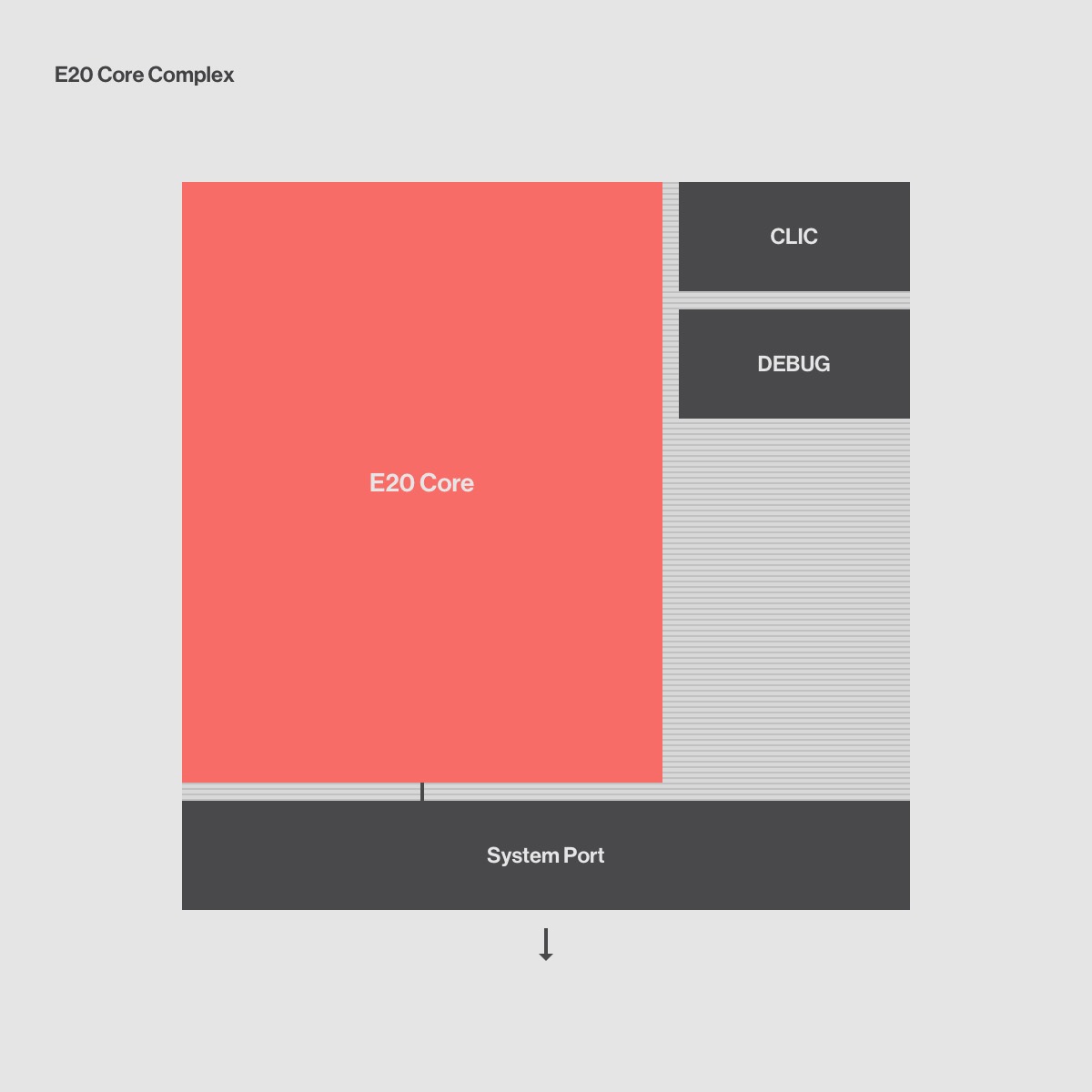 E20
Key Features
RISC-V ISA - RV32IMC
Machine Mode only
2-stage pipeline
System Port for external memory accesses
Core Local Interrupt Controller (CLIC) with 32 interrupts
Advanced debug with 4 hardware breakpoints/watchpoints
1.1 DMIPS/MHz
2.4 CoreMark/MHz
Power, Performance
and Area
Core-Only Areaa
0.011 mm²
0.031 mm²
Core Complex Areab
0.023 mm²
0.064 mm²
Frequency
725 MHz (Worst)
250 MHz (Worst)
Core Complex Powerc
0.58 mW
1.3 mW
Note: Area and power numbers do not include RAMs. Area numbers are from 50MHz Post-Route at worst setup corner.
a. Core only includes the core pipeline only.
b. Core Complex includes the Core plus CLIC w/32 irq and 2 priority bits, Debug w/ 4 hw breakpoints, internal bus and AHB-Lite ports.
c. Dhyrstone @ 50MHz TT Vnom 25C.
Compare to Cortex-M0+
Dhrystone Performance
1.1 DMIPS/MHza
0.9 DMIPS/MHz
CoreMark Performance with GCC
2.4 CoreMarks/MHza
1.8 CoreMarks/MHz
Floating-Point Unit
Optional
None
Memory Map
Customizable
Fixed ARMv6-M
Interrupts
Up to 1024 interrupts
32 interrupts
Interrupt latency to C handler
6-cycleb
15-cycle
Tightly Integrated Memory
2 Banks of TIM (optional)
None
a. E20 Standard Core Configuration, using GCC
b. CLIC Vectored Mode
E20
Development Kit
Dev Kit Deliverables
RTL Evaluation
Test Bench RTL
Software Development Kit
FPGA Bitstream
Documentation
Series Overview
E2 Series
The E2 Series is highly-optimized for area and power while still offering class-leading performance. Targeted for microcontroller and embedded devices, the E2 Core can be configured to have an efficient 2‑stage pipeline or a higher performance 3‑stage pipeline as well as a Core Local Interrupt Controller (CLIC) enabling extremely fast interrupt response. The E2 Series can be fully customized to meet your specific requirements. Using the SiFive Core Designer the smallest possible E2 core can be configured using 13.5k gates.
E2 Series
Highlights
Key Features
Core performance
Single precision Floating Point Unit
Custom memory map and ports
Optional Tightly Integrated Memory (TIM)
Smallest core configuration uses 13.5k gates and is .005mm2 in 28nm
Applications
MEMS Sensors
Power managment
Digital motor control
Low-power MCUs
Health wearable monitors
Environmental monitors
Core Evaluation
From idea
to reality.
Ready to see your code in action? The E20 Development Kit enables free evaluation of SiFive RISC-V Core IP.
Key
Deliverables
Evaluation RTL
Full-Functional, synthesizable Verilog RTL
Run it in your own simulator
Simple, no-cost evaluation license
Start E20 Free Trial
FPGA Bitstream
Fully-functional SiFive RISC-V Core Complex with system peripherals
High Performance - 65 MHz emulation
Upload your own programs using the Freedom E SDK
Compatible with the Arty A7 FPGA Development Board: