S7 Series
S76
The SiFive S76 Standard Core is a high-performance 64-bit embedded processor which is fully-compliant with the RISC-V ISA.
The S76 is ideal for latency-sensitive applications in domains such as storage and networking that require 64-bit memory addressability (e.g. In-storage Compute, Edge Compute, 5G Modems, Object storage etc.)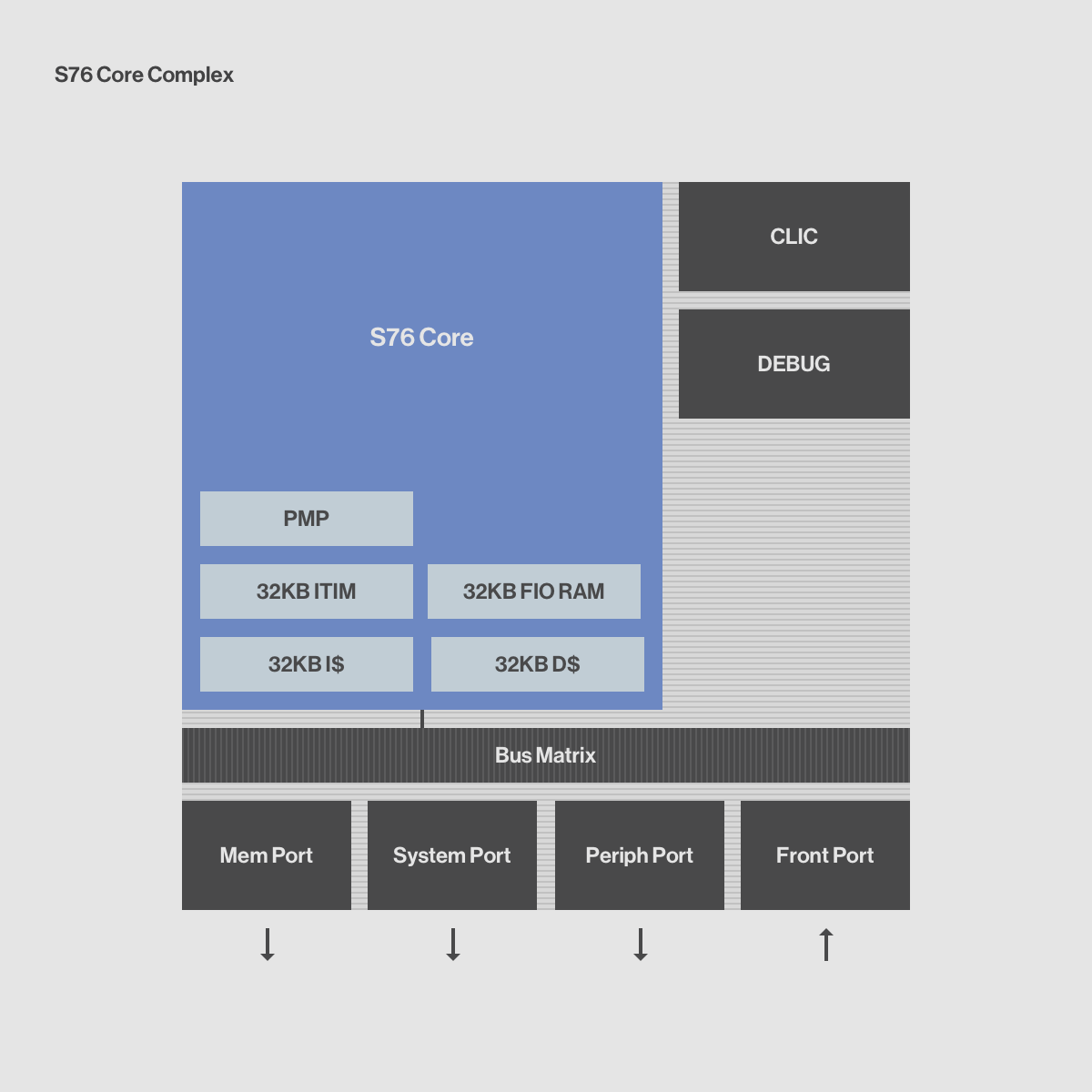 S76 Key Features
Fully-compliant with the RISC-V ISA specification
RV64GC S76 Core
Machine and User Mode Support
In-order, 8-stage pipeline
Advanced Memory Subsystem

32KB Instruction Cache
32KB Instruction Tightly Integrated Memory (ITIM)
32KB Data Cache
32KB FIO RAM

Efficient and flexible interrupts
Physical Memory Protection (PMP)
High-performance TileLink Interface
2.5 DMIPS/MHz
4.9 CoreMark/MHz
Compare to Cortex-R8
Instruction Set Architecture
64-bit
32-bit
Number of coherent cores
8
4
Physical Memory Protection
Yes
Yes
Heterogeneous, in-cluster coherent compute
Yes; can be combined with U7 series cores
No; cannot be combined with Cortex-A cores
L2 cache
Optional; pre-integrated
None
Memory map
Customizable
Fixed
Series Overview
S7 Series
The S7 Series offers a 64-bit embedded processor targeting high-performance, real-time applications that require 64-bit memory addressability. The S7 core has a superscalar 8-stage in-order pipeline.
S7 Series Highlights
Key Features
Up to 8 coherent high-performance RISC-V real-time processors
Supports an in-cluster coherent combination of application processors with real-time processors (S7 and U7)
L2 cache available for high-performance applications (optional)
New microarchitecture features for enhanced security and real-time determinism
64-bit addressability for embedded applications
Applications
Enterprise Storage, Object Storage
In-storage Compute, Edge Devices
FAST data analytics, Line-rate network processing
Baseband Processing, 5G Modems
Telematics Units