SiFive Intelligence
SiFive Intelligence X280
The SiFive Intelligence X280 is a multi-core capable RISC-V processor with vector extensions and SiFive Intelligence Extensions and is optimized for AI/ML compute at the edge.
In addition to ML inferencing, it is ideal for applications requiring high-throughput, single-thread performance while under power constraints (e.g., AR, VR, sensor hubs, IVI systems, IP cameras, digital cameras, gaming devices).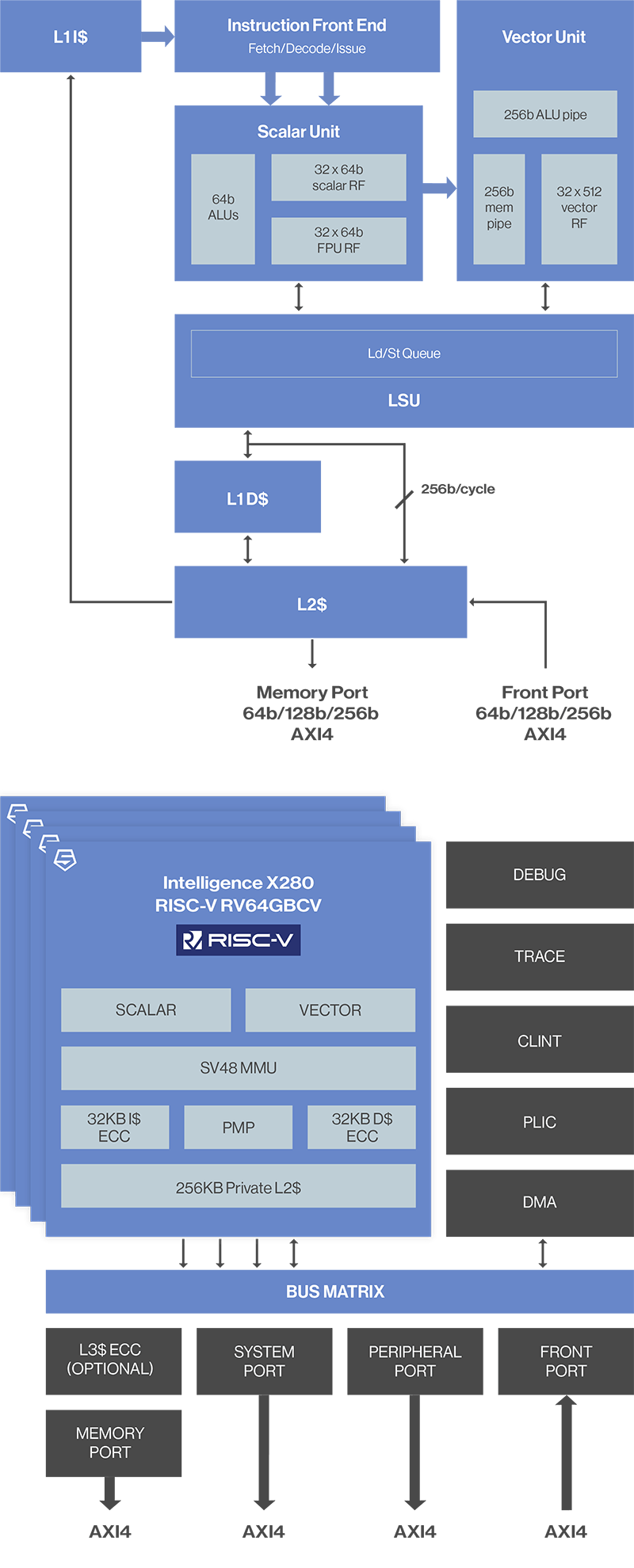 SiFive Intelligence X280 Key Features
SiFive Intelligence Extensions for ML workloads

BF16/FP16/FP32/FP64, int8 to 64 fixed-point data types

512-bit vector register length:

Variable length operations, up to 512-bits of data per cycle
Ideal balance of control logic and data parallel compute

Built on silicon-proven U7 series core:

64-bit RISC-V ISA
8-stage dual-issue in-order pipeline
Coherent multi-core, Linux capable

High performance vector memory subsystem

Memory parallelism provides cache miss tolerance
Virtual memory support with precise exceptions
Up to 48-bit addressing
Intelligence X280 Development Kit
Dev Kit Deliverables
RTL Evaluation
Test Bench RTL
Software Development Kit
FPGA Bitstream
Documentation
Solution Overview
SiFive Intelligence
SiFive Intelligence is an integrated software + hardware solution that addresses energy efficient inference applications. It starts with SiFive's industry-leading RISC-V Core IP, adds RISC-V Vector (RVV) support, and then goes a step further with the inclusion of software tools and new SiFive Intelligence Extensions, vector operations specifically tuned for the acceleration of machine learning operations. These new instructions, integrated with a multi-core capable, Linux-capable, dual-issue microarchitecture, with up to 512b wide vectors, and bundled with TensorFlow Lite support, are well-suited for high-performance, low-power inference applications.
Intelligence Series Highlights
Key Features
Fully-compliant with the RISC-V ISA specification
Up to 8+1 coherent high-performance RISC-V application processors
Supports an in-cluster coherent combination of application processors with real-time processors (U and S cores)
Low latency caches
High -performance L1 memory microarchitecture
Physical memory protection
Private cache /cache locking capability for mission critical computing
Applications
AI/ML Inference and Training
Enterprise Switching/Routing/Storage, Smart NICs
Edge Analytics, Big-Data Analytics
Autonomous Machines
Edge Compute
5G Infrastructure/Base Stations
AR/VR/MR/XR
Core Evaluation
From idea to reality.
Ready to see your code in action? The SiFive Intelligence X280 Development Kit enables evaluation of SiFive RISC-V Core IP.