SiFive Performance
SiFive Performance P270
The SiFive® Performance™ P270 is an 8-stage, dual-issue, highly efficient in-order pipeline compatible with the RISC-V RV64GBCV ISA. With full support for the RISC V Vector Extension v 1.0RC, and combined with the SiFive Recode utility, which translates existing SIMD software from popular legacy architectures to RISC-V Vector assembly code, the P270 is an ideal replacement for dated SIMD architectures.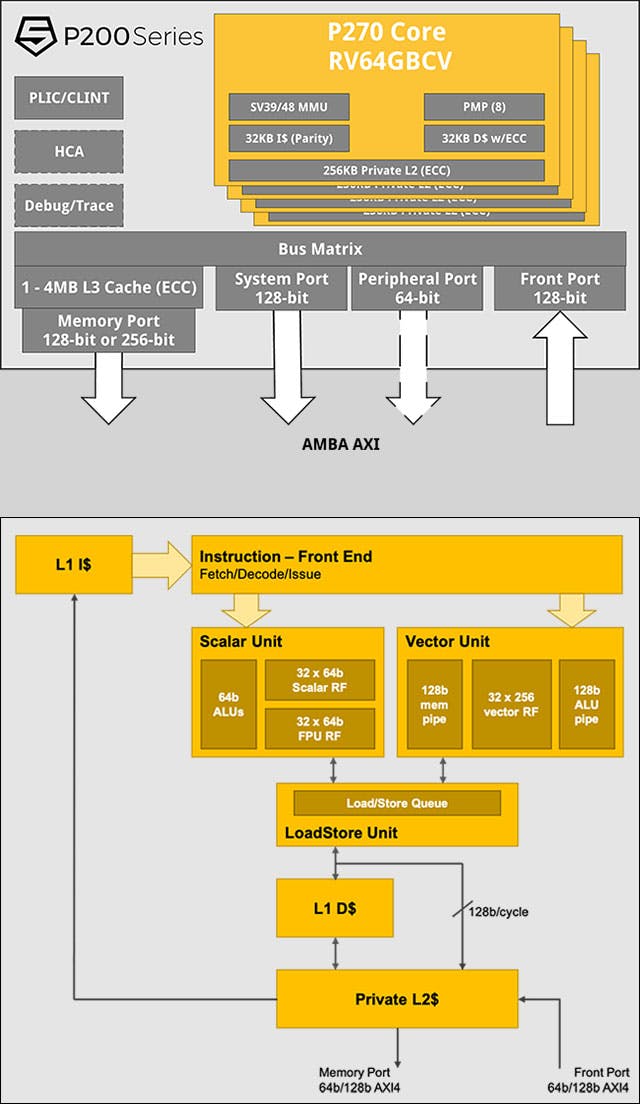 SiFive Performance P270 Key Features
256-bit vector length processor

Variable length operations, up to 256-bits of data per cycle, with dynamic vector length configuration
Ideal balance of control and data parallel compute

Performance

5.75 CoreMarks/MHz
3.25 DMIPS/MHz
SpecINT 2K6 = 4.6

Scalar processing built from U7 series core

Multi-layer Caching support for optimum data movement
Stride Prefetcher
Virtual memory support, up to 48-bit addressing

High performance, flexible connectivity to SoC peripherals
Multi-core processor configuration with up to 4-cores
Implements RISC-V Vectors v1.0-rc version
Dual issue scalar unit runs concurrently with vector unit
Key vector unit attributes

VLEN = 256. DLEN = 128 (datapath width). ELEN = 64 (datatypes)
Separate memory and ALU pipelines for concurrent operation
Vector operations, decoded and Queued in Vector Unit for parallel operation of Scalar and Vector units

Vector ALU

128b ALU can perform 2x64b, 4x32b, 8x16b, 16x8b ops/cycle
Integer and Floating point data types supported

Vector Loads/Stores are 128b/cycle

L2 cache treated as primary memory
Load from L1 cache, initiates L2 cache load in parallel, minimizing L1 cache miss impact
Performance P270 Development Kit
Dev Kit Deliverables
RTL Evaluation
Test Bench RTL
Software Development Kit
FPGA Bitstream
Documentation
Core Evaluation
From idea to reality.
Ready to see your code in action? The SiFive Performance P270 Development Kit enables evaluation of SiFive RISC-V Core IP.