SiFive Performance
SiFive Performance P650
The latest generation SiFive® Performance™ P650 is the highest performance commercially licensable RISC-V processor. The P650 application processor features a thirteen-stage, four-issue, out-of-order pipeline and offers best-in-class performance with >50% uplift over the SiFive Performance P550, while maintaining a significant performance-per-area advantage compared to the Arm® Cortex®-A77.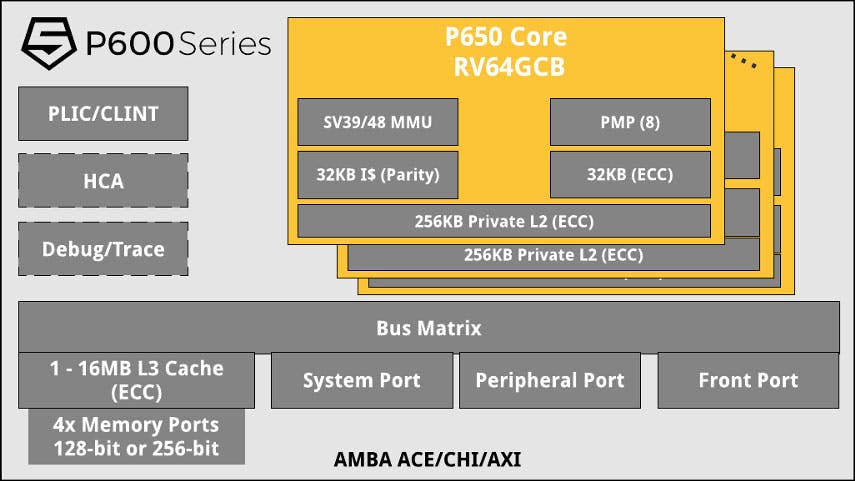 SiFive Performance P650 Key Features
Breakthrough RISC-V performance

Multi-core, multi-cluster processor configurations with up to 16 cores
Highest performance commercially licensable RISC-V processor achieving >11 SpecINT2k6/GHz

P650 Core Architectural Features

64-bit RISC-V core Sv39/Sv48 Virtual Memory Support
Four-issue, out-of-order pipeline tuned for scalable performance
Private L2 Caches and Streaming Prefetcher for improved memory performance
SECDED ECC with Error Reporting

Enabling next generation applications

Hypervisor Extension and System Level Virtualization IP
SiFive WorldGuard System Security
Cache stashing to L3 for tightly coupled accelerators
Performance P650 Development Kit
Dev Kit Deliverables
RTL Evaluation
Test Bench RTL
Software Development Kit
FPGA Bitstream
Documentation
Core Evaluation
From idea to reality.
Ready to see your code in action? The SiFive Performance P650 Development Kit enables evaluation of SiFive RISC-V Core IP.