SiFive - June 01, 2022
Introduction To The SiFive Intelligence X280
SiFive is the market leader in RISC-V Vector processors with the flagship SiFive vector processor, the SiFive Intelligence X280, leading the charge as a clear favorite with customers, with solutions being designed into a broad range of applications ranging from computer vision, mobile ISP, Edge AI, to datacenter AI.
The X280 is gaining significant market traction due to a number of factors, including:
Design Flexibility
Power and performance efficiency
Portability
Ease of programmability
Use of standard software
This powerful combination gives customers the ability to develop a perfectly balanced solution to tackle the demands of modern workloads and ensure market success.
The X280 processor is a 64-bit RISC-V vector processor offering best-in-class high performance and efficiency targeting AI and ML workloads. The highly configurable multi-core, multi-cluster capable design has been optimized for the broadest range of applications requiring high-throughput, single-thread performance while under the tightest power and area constraints.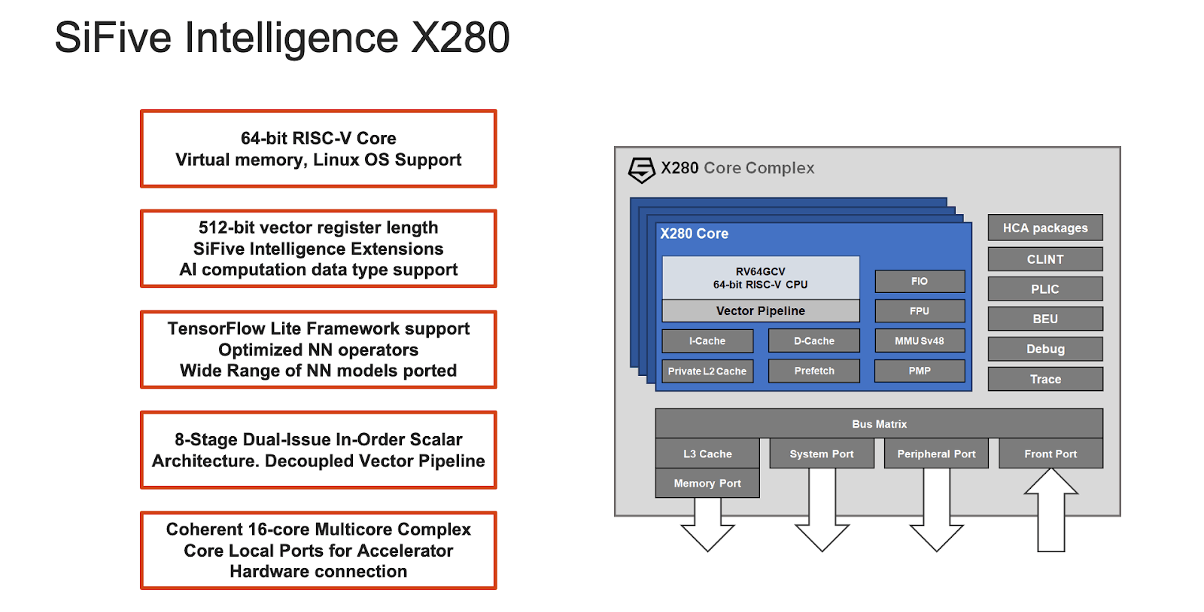 With a specific emphasis on AI/ML compute, the X280 features the powerful combination of the RISC-V Vector (512-bit vector length) and the SiFive Intelligence Extensions, tightly integrated with an 8-stage dual-issue in-order scalar pipeline.
Key Features include:
64-bit RISC-V ISA
SiFive Intelligence Extensions, which are custom instructions that accelerate AI/ML performance critical operations
Multi-core, multi-cluster processor configuration options, with up to 8 cores
Loosely coupled vector computation pipeline and ALU implementing RISC-V Vector extension version 1.0
Support for multiple data types
512-bit vector register length
256-bit Vector ALU and Load/Store architecture
Decoupled scalar and vector pipelines for optimum parallel execution of scalar and vector computation
Virtual memory support, with up to 48-bit addressing
High performance, flexible connectivity to SoC peripherals
See the X280 Product datasheet for full details on X280 specifics.
SiFive has a strong customer base for its vector-based product line. We have worked with customers to further define a roadmap that adds some powerful new features and enhancements, higher performance vector-based processors, and wider vector registers. If you want to find out more about licensing the X280 then please contact us for more details.
Want to learn more about SiFive vectors, you can access the other materials on our SiFive vectors page.
If you're excited about RISC-V Vectors and want to be part of the growing teams across the globe building the next generation of vector products from SiFive then get in touch. We have some great career opportunities in the USA, Taiwan, France, and the UK. Check out the SiFive Careers page for all of the latest updates.
Stay current with the latest SiFive updates via Facebook, Instagram, LinkedIn, Twitter, and YouTube.